Models Prefer Beauty to Go nail enamels - Little Black Dress and Star Dust
Hi ladies! I've been neglecting the blog lately unfortunately as I haven't been in the mood to do much blogging. But I'm getting my mojo back slowly don't worry ;) I love a good bargain so I couldn't go past the
Models Prefer Beauty to Go
sets a while back. They have so many cute sets that are on trend and for such a good price! There are a couple of different colour combos and sets available but I picked up the
Little Black Dress
and
Star Dust
combo because I am loving the black and white toppers.
Star Dust
and
LBD
!
Little Black Dress
is a super opaque black creme that dries to a wax look finish. The formula applies really well and you could get away with 1 coat however I used 2 coats which is pictured.
It has the potential to be a one coater but unfortunately the brush is absolutely terrible! I found it way too thick and the shape is too squoval and it made it impossible to get a clean finish. These swatch pics are my 2nd attempt at trying to apply the polish! Dry time is a little slow too I found.
Star Dust
contains black and white hex and bar glitter in a black base. I didn't know it was in a black base until I swatched it over white! It applies a little sparse but it's not too bad - I found swirling the brush around in the bottle picked up more glitters making it easier to get them on the nail. 2 coats is pictured over 2 coats of
Little Black Dress
.
Here it is over a few different bases so you can see clearly what the glitters look like. From L-R:
OPI
Alpine Snow
,
Models Prefer
Little Black Dress
,
Rescue Beauty Lounge
Concrete Jungle
and
Alpine Snow
again.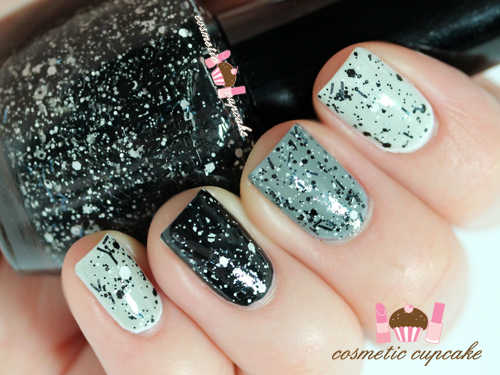 Overall:
I'm a little disappointed but
LBD
and
Star Dust
are a cute combination! I wish the brush was better so
LBD
could apply easily and also that
Star Dust
was in a clear base so I could apply it over pastel colours without the black tint. But for $5 it's not too bad!
Details:
The
Models Prefer Beauty to Go
set in
Little Black Dress
and
Star Dust
are available from
Priceline
for
$5
.
Thanks for looking as always! =)