Everyday neutrals with a pop of purple!
This post is sponsored by Nuffnang and Clearasil
. When it comes to everyday makeup less is definitely more for me. I never have enough time for a full face so I normally use a tinted moisturiser or a really light coverage foundation and neutral colours as it's simple to apply and still allows my skin to shine through. I've been trialling the new
Clearasil PerfectaWash
recently which has kept my pesky blemishes at bay. It's been scientifically developed to dispense just the right balance of active ingredients to help fight those blemishes while still nourishing your skin which has made it easy for me to get away with using only a light coverage base which I love! To feel comfortable with different makeup looks, I think it's key to start off with a good canvas and for me it's all about the skin. When I was younger my skin was nowhere near as well maintained and I was super conscious of that fact. Now that I'm older I realise that I should have invested my time in my skin - instead I spent most of the time applying makeup (badly!) to cover up my blemishes. Not only did it look terrible but I never felt confident. The new
Clearasil PerfectaWash
can help you to create that perfect canvas to achieve that glowing clear skin that we all want. I'm sure you ladies agree that when you're having a good skin day you just feel SO much more confident!
It comes with a unique automated face wash dispenser that delivers exactly 1.5mls of product each time. A recent
Clearasil
scientific trial showed that 1 in 3 people use too much face wash and I know I'm guilty of that! It comes in two formulas –
Super Fruit Extract
(which is pictured) not only smells fantastic it contains raspberry and cranberry which are full of antioxidants to help maintain healthy and radiant looking skin; while
Soothing Plant Extract
contains enough active ingredient to clear breakouts while still being gentle on the skin. Both formulas are dermatologist tested and perfect for all young adult skin types to help get that glowing skin we all want!
I tend to stick to neutrals for everyday makeup as it's fail safe and as I'm still not very confident with colour yet! I've been trying to mix things up a bit though lately by slowly adding in some colour to my everyday look. To ease myself into it I've loved using purple coloured liner for a pop of purple!
What I used for this look:
Face:
I started off by using
Make Up For Ever Face & Body foundation
in
20
for a very light coverage base and concealed my blemishes by using
MAC Cover-Up concealer
in
NC20
. I set my foundation with
Face of Australia Translucent Powder
and I highlighted the tops of my cheekbones using
Bobbi Brown Shimmer Cheek Glow
in
Miami
. I couldn't forget blush which is
MAC Beauty Powder
in
Summer Rose
.
Eyes:
I primed my lids by using
Elf Eyelid primer
and applied one of my favourite cream shadows
Benefit Creaseless Cream shadow
in
Birthday Suit
as a base. I lined my eyes using
Urban Decay 24/7 Glide-On shadow pencil
in
Delinquent
and softened it by smudging the gorgeous purple from the
The Original Sleek Eyeshadow Palette
. I finished it off by curling my lashes and using 2 coats of
Dolly Wink Long mascara
on my top lashes and a coat of
Clinique Bottom Lash mascara
on my bottom lashes.
Lips: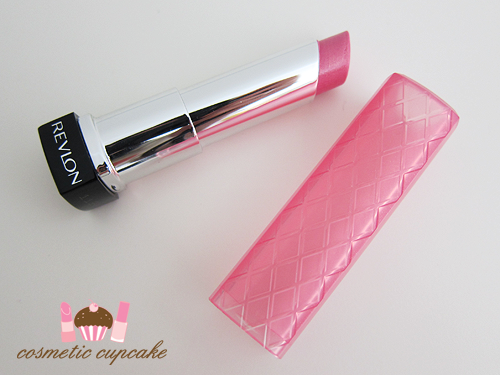 I moisturised my lips and applied
Revlon Lip Butter
in
Cotton Candy
to complete the look! It's really simple and great for colour challenged girls like me to add a pop of colour to an everyday look. It doesn't take much added time either!
Fancy trying out the Clearasil PerfectaWash yourself? Stay tuned for giveaways in my upcoming posts!