Review: Kiss Nail Dress
Hi ladies! Today I have the new
Kiss Nail Dress
nail strips for you.
Kiss
make awesome
nail art stripers
which you'll have heard me mention many times in my nail art posts (you can read my full review of them
here
) so I was interested to try these out. I was very kindly sent two designs to try and I have my review of the gorgeous lace design
Mini
.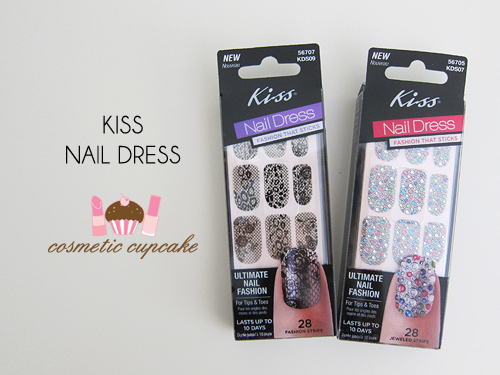 What they say:
"Kiss Nail Dress is the ultimate nail fashion, offering more nail strips per kit than any other brand. Available in 18 patterns and textures, there is something for everyone. With so many style options to choose from, let your inner designer shine through with that pop of color. As you would spice up an outfit with some sparkle and shine, you can now "express" yourself by applying jeweled strips to your nails for that extra punch.

Each manicure is unique with asymmetrical designs. Nail Dress gives you the ability to customize your nails as Nail Art. You can mix and match any texture and pattern by cutting up Nail Dress and applying the strips in any shape or form desired to revamp any look, day or night."
Each pack contains instructions, a nail file and 28 nail strips in 14 different sizes. Plenty in case you mess a few up!
I thought I'd do a little step by step on how to apply them!
Step 1:
Select size that fits your nail
Step 2:
Smooth and fold over edge
Step 3:
File excess
Done!
Overall:
I think this design looks absolutely fantastic! I love lace patterns and these look really elegant without the hassle of dealing with lace or stamping. I was complimented SO many times when I wore these! There is a great range of sizes provided in the packs and I found sizes that fit my nails perfectly. I have huge nail beds and I find the strips of other brands are either too small or too large. I had no overlap with my cuticle and no huge gap which is great.
They are very simple to remove as well - just peel off and no remover is needed and don't leave a sticky residue when you remove them. I wore these for about 4 days and had no lifting so I think would last a good few days longer.
I found these nail strips slightly easier to apply than other nail strips I've tried before as they are thicker which makes them easy to position and less likely to tear. But because these are quite thick I found it quite tricky to file the excess down which meant it took longer than I expected to apply. The edge also felt quite course after filing down so they caught onto my clothing which was very annoying. They also felt quite thick on the nail to me but this is a personal thing.
Details:
Kiss Nail Dress
are available now from Priceline and selected pharmacies nationwide for
$13.95
.
What do you think? Have you tried these before? Thanks for looking as always!
The product featured in this post was provided to me for consideration but this in no way influenced my review in any way. As always, my reviews are my 100% honest opinion. My Disclosure Policy can be viewed here.