Est. Sydney
I haven't done a food post in a while so I thought I would share with you all a fabulous meal I had recently! At the end of last month, I had dinner with 2 awesome friends (hi Jade and Anita!) at
Est.
. For those not playing in Sydney, Est. is an award winning contemporary Australian restaurant. Boy was it a lot of fun! It was so great to unwind with some girlie talk over cocktails and fine food =) We ended up going with the chefs tasting menu (4 courses for
$150
) as it had more choice compared to the tasting menu (6 courses for
$175
). Unfortunately my camera pics didn't turn out so Instagram pics will have to suffice.
We started off with a round of cocktails. I don't drink much at all but I do love a good cocktail! Vodka is my drink of choice so I went with a Moscow Mule. It was delicious x)
For the first course, we all chose the salad of spanner crab with heart of palm, avocado, pink grapefruit, mint and lemon. I could eat this salad everyday! The crab and pink grapefruit went so well together.
For my second course, I chose the grilled white scallops with heirloom carrots, goats curd, roast garlic and black truffle chicken jus. The scallops were beautiful but I think I should have gone with the quail.. there just weren't enough scallops in the dish! LOL.
The highlight of the night - our "off the menu" Périgord truffle mash! We were only expecting truffle through the mash but instead we get thin slices of French truffle atop the most smooth and creamy mash imaginable. We literally could have licked the bowl!! Except of course we were all too ladylike to lol.
For my fourth course I chose the saddle of venison with pickled sour cherries, blackberries, baby turnip, game chips and salad of cresses. Venison is served on the rare side and I don't usually like my red meat too rare but this was just melt in your mouth.
For dessert I chose the mascarpone citrus cannoli with macerated summer berries and pink grapefruit sorbet. Oh my goodness it was so heavenly! It was summer on a plate. I could have eaten a whole tub of the pink grapefruit sorbet mmmmm.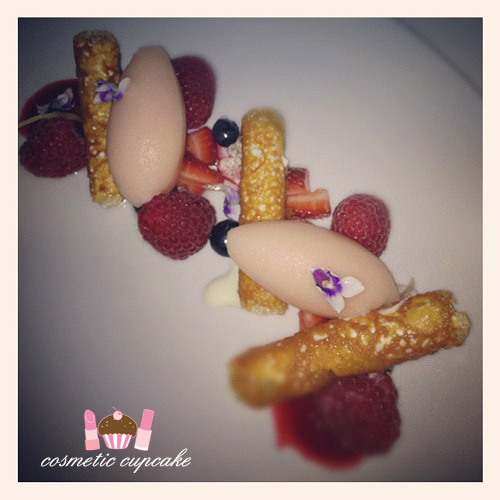 We were even given an extra dessert to share! Caramelised blood plum, brown sugar cake, labne and spiced plum caramel. The flavours in this were so interesting but worked really well together!
Yummy petit fours!
Overall it was a fabulous dinner and night out! The service was impeccable and the atmosphere was great - and of course the food was divine! I'll definitely be going back in the future.
Est.
is located at Level 1, Establishment 252 George Street Sydney 2000.
Thanks for looking as always =) Don't forget to enter my 2nd birthday giveaway
here
!