An OPI My Private Jet dupe? BK Diamond Duet 20 black holo swatches
When you think of a black holo, I always think of the elusive and amazing
OPI
My Private Jet
original version. I don't own a bottle myself unfortunately but I do own the new version and yeah, it kinda sucks as a holo. You can check out pics of the original
OPI
My Private Jet
on
The Polish Addict
and
the Lacquerista
. Anyhoo, I believe I may have discovered a dupe for it!! May I introduce to you:
BK Diamond Duet
in
20
. Prepare to be WOWED.
I have been waiting to swatch this baby since I arrived home from Hong Kong in May. I picked this up from the HK Konad distributor (full details coming soon - I have a "HK where to buy" in the works but it's a lot of work!) and OH MY GOD WORDS CANNOT DESCRIBE ITS FREAKING AWESOMENESS. Hence I will say little and show you pics =D Pictured is 2 coats of
20
which is a smoky black/grey holographic. In my rush to catch the sun I accidentally dented my middle finger. Oops!
Close up: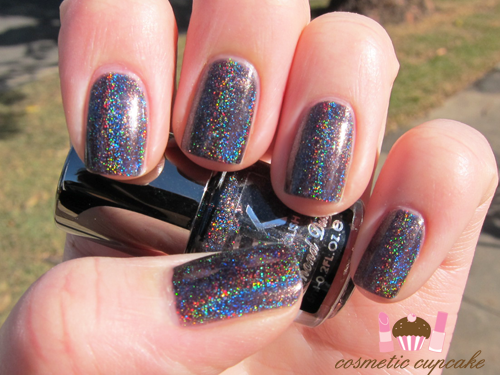 Bottle pic:
In artificial light:
How I wish I owned a bottle of the original
My Private Jet
so I could compare the two! But in my opinion this is at the very least is a fan-bloody-tastic black holo! What do you think?
Thanks for looking as always! International ladies, don't forget to enter my Beautysnapz giveaway
here
!