Another swap with Chris from Lacquer Wear for Tips and Toes
Chris from
Lacquer Wear from Tips and Toes
is another awesome blogger lady I've had the pleasure of getting to know through our love of nail polish! When we 1st swapped we decided on doing it in 2 parts so here is the 2nd part of our swap which I received this week (see the 1st part
here
). This post will be light on words as I'm not feeling 100% at the moment but I just had to post about this awesome package!
So many pretty polishes!! Chris was very sweet and wrote little notes explaining the polishes too as some of the polishes are firsts for me.
From L - R:
Arissa colorvantage
in
rockin' amethyst
,
Sinful Colors
Deep Red Ocean
,
Savvy
Andrea's Mint
,
Borghese
Stellare Notte
and
Art Deco
gold glitter
. Chris kindly special ordered the
Sinful Colors
for me as she knew it was on my wishlist! Another lemming crossed off my list *dance* and my 1st
Borghese
!!!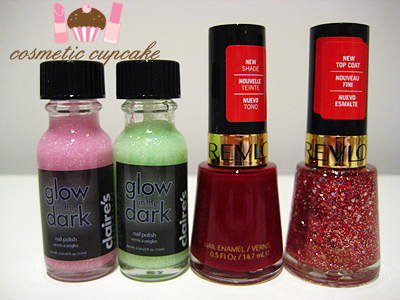 From L - R:
Claire's Glow in the Dark polish
,
Revlon
Ruby
and
Revlon
Slipper
. Glow in the dark polishes and glitter
Revlon
= happy 'chelle!
Chris also kindly included 2 of my favourite frankens she's done yay:
Accidental Blues
and
Black Rose
. I still haven't had time to try out her fantastic franken tutorial =(
Thoughtful extras she included for me!
Candy corn YUM! My sis has devoured about half the packet already LOL.
Thank you for another great swap Chris! =D I can't wait to try out all the lovely polishes you sent me - especially your frankens!
Thanks for looking! Don't forget to enter my Polished Pink for October giveaway
here
.