Way back in 1993,
Christian Louboutin
was working on a shoe inspired by Warhol's "Flowers" when he thought something was missing. His assistant was nearby painting her nails when he grabbed the bottle from her and painted the sole of the shoe red - and thus began the legend of his signature Red Sole. It's come full circle now with the recent release of Louboutin's nail polish range as part of a new beauty collection.
The full collection consists of 30 nail lacquers divided into 3 categories -
Pops
,
Nudes
and
Noirs
and the signature
Rouge
. I think my heart pretty much stopped when I woke up to the news a few weeks back and it was pretty much a given that I would stop at nothing to get my hands on a bottle of
Rouge Louboutin
! Thank you J for helping me bring purchase this!
What they say:
"Rouge Louboutin… a timeless, vibrant red suited to any skin tone. A true objet d'art of a dramatic 8-inch height inspired by the tallest heel Christian Louboutin ever created- the Ballerina Ultima. The iconic Rouge is encased in a faceted, weighted glass bottle with an unique ombré effect. The tall slender cap, inspired by calligraphy, turns the application into a luxurious experience, inviting women to take their time.

The custom-designed, patented triangular brush picks up the right amount of formula, without air bubbles, to deliver flawless, chip-resistant coverage. A highly pigmented, super glossy formula delivers in just two coats the effect of 20 layers of traditional lacquer. Enclosed in a patent leather like finish presentation box with a red reveal."
Louboutin at work | Source
Louboutin tests Rouge Louboutin | Source
Louboutin at work | Source
The bottle is amazing and consists of a heavy red black ombre glass bottle with a tall pointy cap that stands at an impressive 8 inches. It's inspired by the tallest heel Louboutin ever created - The Ballerina Ultima Shoe and is definitely meant to be displayed. Not that it would fit into my helmer!! The cap looks extremely scary but it's surprisingly easy to use and I held it like a pen to apply. The brush is firm but flexible and easy to use.
Rouge Louboutin with the Ballerina Ultima shoe | Source
Rouge Louboutin
is a classic blue based red creme. It's highly pigmented, ultra glossy and self leveling and is pretty much perfection. Oh oh what is not to love!! Pictured is just one perfectly opaque coat with no top coat.
Overall:
Rouge Louboutin
is hands down the pride and joy of my nail polish collection. At $50 it is damn expensive even for an avid polish collector like me and I'm sure there's a red creme out there that's very similar at a fraction of the cost. The formula is pretty much perfection and the bottle and packaging is amazing but it's what you think is worth it when it comes to polish. Having said that though, for lovers of his signature heels and luxury polish collectors it's a must have splurge item. Plus it's so much more affordable than a pair of his heels! I am completely biased when it comes to items like this though haha!
I'm so glad that the lacquers weren't released when I was in the Saint-Honore boutique in Paris buying my very first pair of Louboutin's earlier this year because I'm PRETTY sure I would have bought most of the collection X)
Details:
Christian Louboutin
Rouge Louboutin
is available now from
Sephora
,
Nordstrom
,
Saks
, and Louboutin boutiques and
online
for
$50US
and in Hong Kong from Lane Crawford IFC for
$450HK
. Not sure of the Aus release so your best bet is to ask someone to mule it for you!
Helloooooo ladies!! Apologies for the delay in announcing the last 2 winners of my belated 4th blogiversary giveaways. I am working on something very very special for Cosmetic Cupcake Nails (which I can't share just yet unfortunately!) while also doing my assignments and stuff. Without further ado..
The winner of my
nail art book giveaway
is:
Katie S.!

The winner of my
favourites giveaway
is:
Carmen S.!

Congratulations ladies! I've emailed you and please make sure to contact me in the next 48 hours or I'll have to redraw the winner..
Thank you so much to everyone for entering and for your support for my blog!
I don't think I've mentioned it on my blog yet but I'm currently doing my nail technology certificate II so I can become a fully certified nail tech!! Most days I still enjoy being a nurse but I thought it was time to take my skills and my little business (
Cosmetic Cupcake Nails
!) to the next level and see where it'll take me. I'm learning so much and loving the course but it's 2 nights a week and all day Saturdays leaving no time for much else including working on my blog. I wore this mani for a full day at work before I even got a chance to take photos! Only when I went to edit my pics did I realise that it was all scratched up. FAIL. To the naked eye my mani still looked fresh but my trusty macro lens doesn't miss much which is unfortunate in this situation!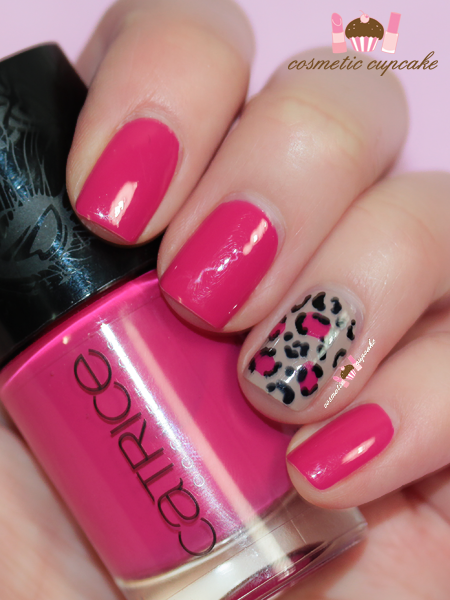 I used 2 coats of
Catrice Ultimate Nail Lacquer
Charleston's Flame
from the
Feathers & Pearls collection
on all nails except for my accent nails where I used
Discreet
from the
Thrilling Me Softly collection
. I added random spots of
Charleston's Flame
onto my accent and then outlined the spots and added random c's using
Models Own nail art pen
in
black
.
I'm off to crash x) thanks for looking!
I forgot to post this mani from a few weeks ago oops! I wanted to use some of the
Barry M Gelly
polishes I picked up in London on my honeymoon and thought I'd do a somewhat geometric mani. It didn't really turn out how I wanted it to because my stamping for my accent nail was a huge fail and so are my photos but oh well. Bring on Summer and the long days of beautiful sunshine!
What I used
:
Pinky and thumb:
I used 2 coats of
Barry M
Huckleberry
and added black studs in a triangular design to the middle and bottom of my nails.
Ring finger:
I used 1 coat of
Cult Nails
Tempest
and stamped triangular design from
Bundle Monster
BM 402
using
Konad special polish
in
black
.
Middle finger:
I used 3 coats of
Essie
Ignite the Night
(thanks to my sis for this glitter!)
Index finger:
I used 2 coats of
Barry M
Rose Hip
and added black studs in a triangular design at the top of my nail.
I find I need to stamp regularly or else I lose my skills and end up with major fails! I also need to update my stamping collection too and get some Moyou plates and also indie plates. Any recommendations?? Thanks for looking as always!